Fried Soft Shell Blue Crabs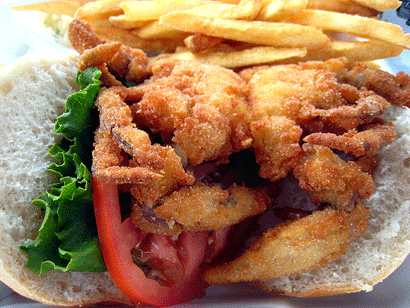 Ingredients (serves 4):

1 dozen Soft Shell Blue Crabs
1 c. all-purpose flour
1 tsp. salt
1/4 tsp. pepper
Oil for frying

If Soft Shell Blue Crabs were purchased from Giovanni's Fish Market & Galley,these preparation steps are not necessary, skip to "Directions" below:

Clean soft shell crabs by first cutting off the eyes with kitchen shears across the face of the crab. Remove the mouth. Then remove sandbags and gills. Turn crab over and remove apron at lower part of shell. Wash thoroughly.

Cooking Directions:

Mix flour, salt, and pepper together. Dip crab in seasoned flour; dust off excess. Fry in oil 3 - 5 minutes or until golden brown, turning once. Drain on paper towels. Serve with lemon wedges and your favorite seafood sauce.